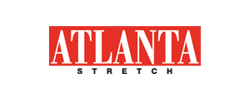 Automatic & Semi-Automatic Stretch Wrapping System
Atlanta Stretch SpA is specialized in manufacturing semi-automatic stretch wrappers and automatic pallet wrapping machines.
The more than thirty-years of experience has enabled us to produce a complete range of stretchfilm wrapping machines that extends from the model SYNTHESI to the rotating platform MYTHO-A, from the model LYBRA to the rotating arm REVOLUTION DOUBLE, to be completed with our high speed ring wrapper model OMEGA and OMEGA TWIN. If you're looking for durable equipment to meet your industry needs, check through the Atlanta Stretch models because we have manufactured and installed thousands of wrapping lines satisfying the requirements of more than 4.000 customer worldwide, belonging to every kind of sector.
The rugged and effective stretch film machinery has been manufactured to help you, protect each of your products. 
Taking the risk out of shipping, every product you produce will remain secure and safe for customer satisfaction.
We always tend to say "The last thing that you will do with your pallet packaging, is the first thing what your client will see".
So you better do that in the most efficient, economic and best way possible! In this complex world of packaging, Atlanta Stretch is the leader in the sector thanks to the high quality of the products, the efficiency, the professional organization and last but not least the advanced design, technologies and production methods.
The references on which we are most proud of are companies leading in the sectors of FOOD & BEVERAGE, multinationals in LOGISTICS, PAPER, CARDBOARD and TISSUE and important partners in the CHEMICAL and PHARMACEUTICAL industries.

When you choose our automated wrapping machine and pallet wrapping machinery, you get durability and reliability with every use.
Semi-Automatic wrapping machines In the semi-automatic pallet wrapper machines the application of the film takes place with the supervision and the intervention of the operator; in fact, the operator must position the pallet and connect the film towards the pallet. The wrapper will then proceed with the programmed wrapping cycle in automatic mode, to finish with the final cutting by the operator or the optional simple cutting device. At this point the operator can remove the pallet from the wrapping position. Automatic wrapping machines The automatic pallet wrap machine does not need the intervention of the operator, neither in the hooking stage of the film or in the final stage of the cycle, the pallet reaches the machinery through a convening system, which will place the pallet correctly at the wrapping position; here the machine proceeds by wrapping pallet according to the program set previously by the operator, or selected automatic by the infeed line. Once the process has been completed, the pallet will feeding out, to the unloading point or automatic warehouse of the client.