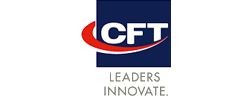 CFT Packaging SpA designs and manufactures food processing and packaging machines. From Processing and sorting to secondary packaging, our range of solutions covers the entire production process of Food and Beverage. Since 1945.
PRIMARY PROCESSING
CFT Group's premium and complete portfolio of different machines and related technologies which allow the first transformation of the raw ingredients into semi-finished products.
SECONDARY PROCESSING
Our Secondary Processing range includes specific equipment which allows the raw material to be subjected to a second processing phase, thanks to which the product reaches a stage where it can be considered finished and ready to be filled or packaged/
FILLING
Our filling machines' portfolio includes specific equipment for beverage and food filling, with a wide range of available formats and speeds.
SEAMING
The Seaming range we provide goes from the 2000 series (specific for food filling) up to the 3000 range (which can be used both for food and beverage products).
SORTING
Optical and X-ray sorters designed by our company Raytec, equipped with different technologies depending on the physiognomy of the target product.
PRODUCT TREATMENT
Our Product Treatment technologies provide solutions for fresh and pre-cooked vegetables, and thermal treatment for non-packaged and packaged products.
BLOW-MOLDING
Our company Siapi provides top quality technological solutions to the blowing machines' market for bottles and containers in PET, PP, PLA and other resins.
END OF LINE
Our End of Line technological platform features automated solutions for primary and secondary packaging equipment, sorting and product treatment.