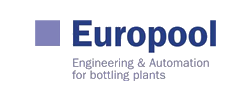 Engineering Automation & Conveyor for Bottling Plants
Europool was established in Parma in 1993, in the heart of Italian Food Valley, the most advanced area in the world as for food machinery technology, packaging and bottling systems.
Europool mission is to offer a high engineering standard for bottling and packaging lines.

 Europool selects the most valuable solutions thanks to its knowledge of technology and market solutions and thanks to the experience of its engineers.

 Europool acts as a "technical department" at the customer's service to obtain solutions within a given time and within a given budget.
Europoolsub misses a global solution to the customer: selection and quality control of suppliers, coordination and supervision of subcontractors, building works provisions, plant project, safety requirements, staff training.
EUROPOOL CATEGORY
HANDLING
DYNAMIC ACCUMULATION TABLE
ELEVATOR AND LOWERRATOR
CONTAINERS TREATMENT
DRYER