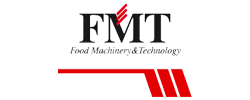 Filling Lines for Food & Beverage
FMT SRL is a very young company, specialized in the designing and in the manufacturing of free-standing machines, that has successfully carved out a space for itself in the food industry, spreading its brand all over the world.
High quality, reliability and flexibility are the common characteristics of all our equipment thus making it possible the use of these machines for different applications both in the food and beverage field.
The production range includes complete packaging lines for a wide range of products such as edible oil, fruit juices, vegetable preserves, sauces, soft drinks, beer etc. and with any kind of container (glass, PET or metal).