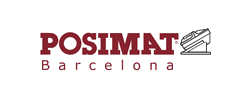 POSIMAT, S.A. is the world's leader in the manufacturing of empty plastic bottles handling systems for more than 40 years.
POSIMAT headquarters are located near Barcelona, the cluster of packaging technology of our country.
Two factories are fully capable of responding to the customer's ever-increasing orders.
POSIMAT also has a manufacturing site in Miami (US), as well as commercial offices in India and China, and a service office in Malaysia.
A Team of more than 100 professionals are distributed in 5 locations. They are fully engaged with the company values and mission, continuing to bring their knowledge to improve the satisfaction of growing number of clients.