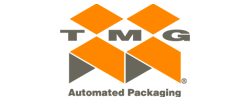 Depalletizing, Palletizing & Case Packing System
Since 1976, TMG Impianti has been meeting the needs of both domestic and international markets offering a wide range of automated packaging solutions suitable for different sectors: winery, food, beverage, chemical and bags sector. In forty years of business, TMG Impianti has achieved a great world success thanks to the continuous and constant use of the newest end of line packaging's technologies and through the huge passion and commitment of the its employees.
Today, the company has become an international benchmark for those who seek customized solutions for case packing, palletizing and material handling.
PRODUCTS
DEPALLETIZER
CARTON FORMER
CSE PACKER
MONOBLOCKS
CARTON CLOSER
PALLETIZER
ROBOT